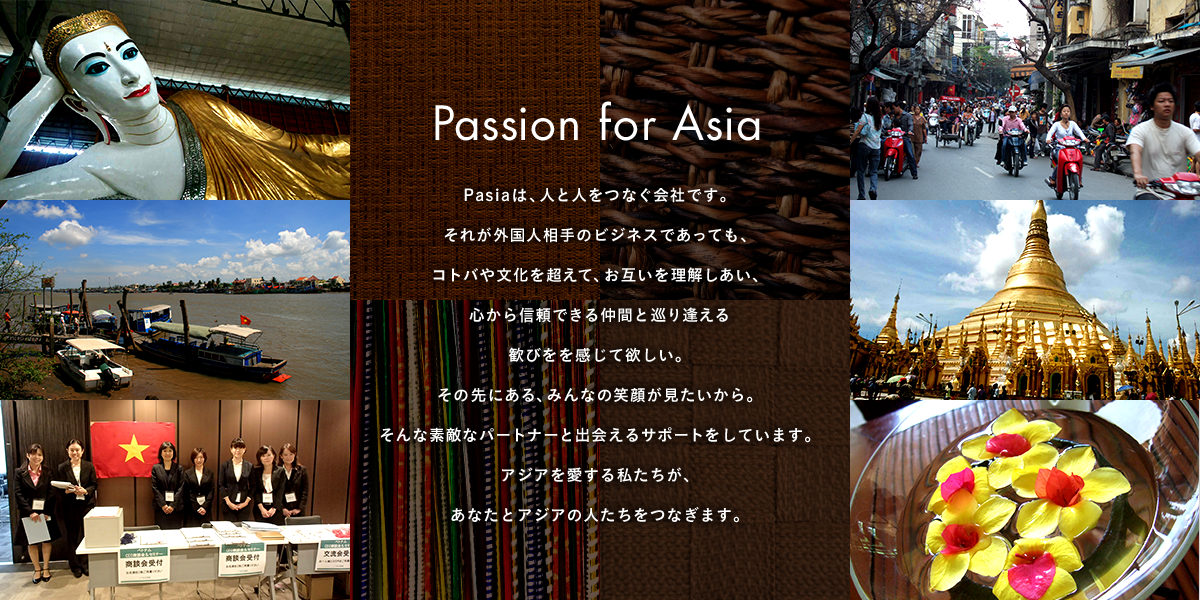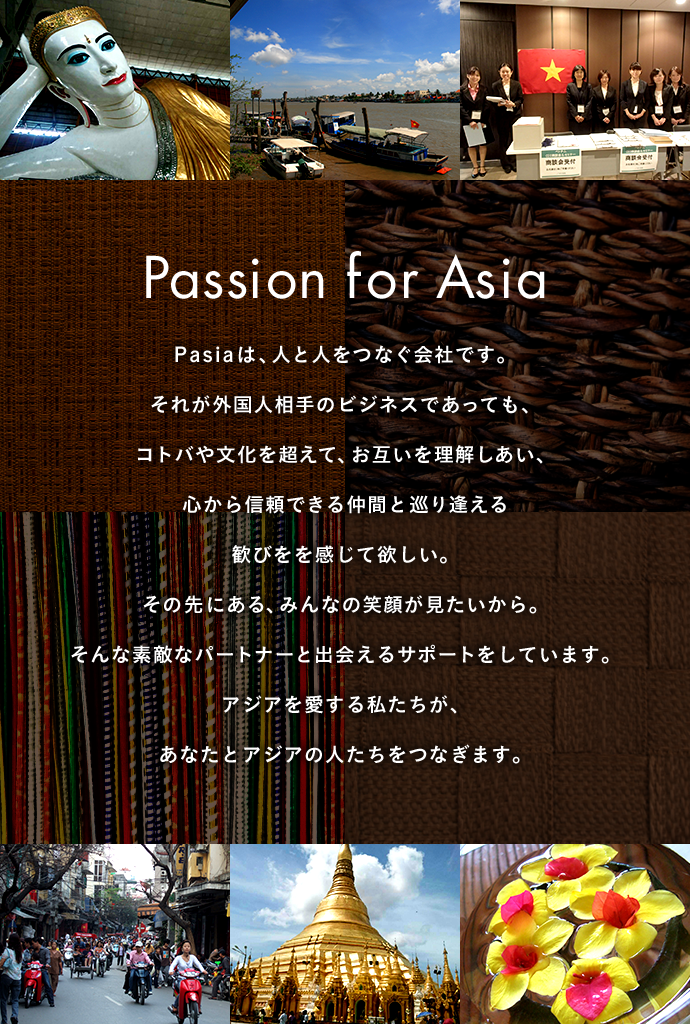 翻訳 / TRANSLATION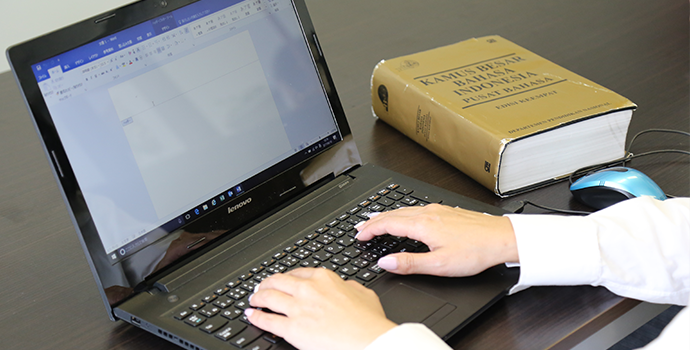 各分野に適した優秀な翻訳者を揃え、ご相談から納品までお客様のニーズに合わせたサービスを提供いたします。希少言語にも対応可能ですので、どのようなご要望でもお気軽にお問い合わせください。
対応分野:
・各種契約書 ・官報 ・法律 ・政府規則 ・診断書 ・電波法 ・競売法 ・医療関連 ・裁判 ・調停
・和解 ・経済 ・技術 ・教育プログラム ・医療福祉 ・自動車関連 ・映像翻訳 ・テープ起こし
・漫画翻訳 ・書籍 ・観光 など
対応言語:
・インドネシア ・カンボジア ・タイ ・マレーシア ・ベトナム ・ミャンマー ・ラオス ・中国
・英語 など
---
Outstanding translators proficient in various fields are available to provide translation services that meet your needs, from consultation to delivery.
We also handle rare languages, so feel free to contact us no matter your needs.
Areas Covered:
・Various contracts ・Official gazettes ・Legal documents
・Government regulations ・Medical certificates ・Radio Act ・Auction Act
・Medical documents ・Judicial documents ・Mediation ・Settlements
・Economics ・Technology ・Educational programs ・Medical welfare
・Automotive documents ・Video translation ・Transcription
・Manga translation ・Books ・Tourism, etc.
Languages Covered:
・Indonesian ・Khmer ・Thai ・Malay ・Vietnamese ・Burmese
・Lao ・Chinese ・English, etc.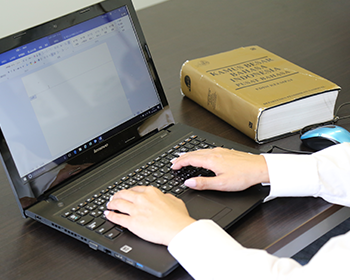 通訳 / INTERPRETATION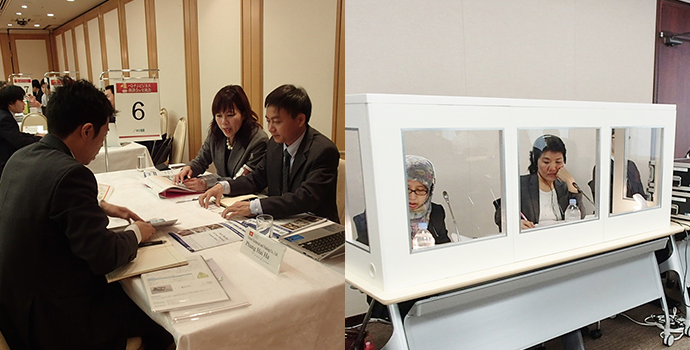 インドネシア語、マレー語などASEAN諸国言語の通訳者手配を得意とし、これまでの手配経験と通訳者達との連携により、会議や商談など条件に応じた通訳者を選定しコーディネートいたします。
実績を積んだ質の高い通訳者を交えることにより、言葉の壁を取り去り、真の国際コミュニケーションを実現いたします。同時・逐次通訳、観光ガイド、法廷通訳など、日本全国、海外現地での手配も対応可能です。
対応分野:
・国際会議 ・セミナー ・イベント ・会議 ・商談 ・各種同行通訳 など
対応言語:
・インドネシア ・カンボジア ・タイ ・マレーシア ・ベトナム ・ミャンマー ・ラオス ・中国
・英語 など
---
We excel in making arrangements for interpreters proficient in the languages of ASEAN countries, including Indonesian and Malay. We leverage our experience and network with interpreters to choose professionals best suited to the setting, whether it is a meeting or business talks.
Working with highly skilled, experienced interpreters eliminates the language barrier and achieves true international communication. We can make arrangements for services such as simultaneous interpretation, consecutive interpretation, court interpretation and sightseeing guides both throughout Japan and in overseas locations.
Areas Covered:
・International conferences ・Seminars ・Events ・Meetings ・Business talks
・Various escort interpretation, etc.
Languages Covered:
・Indonesian ・Khmer ・Thai ・Malay ・Vietnamese ・Burmese ・Lao
・Chinese ・English, etc.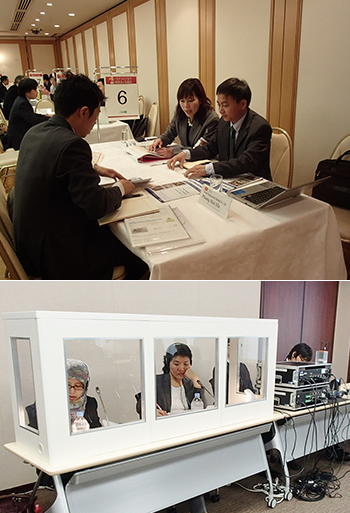 コンサルティングサービス / CONSULTING SERVICES
インドネシアをメインに、ASEAN諸国への中小企業の海外進出をサポートします。マーケティングにおいては、PAsia独自のネットワークを使った業界調査、競合調査を行います。さらに市場調査サービスでは、海外の定量・定性調査に特化した「Syno Japan株式会社」と提携し、国際ビジネスの視点に立ったリアルで有益な情報を提供いたします。
併せて、営業、レポート作成、資料翻訳、商談など、的確な情報を提供するとともに、現地パートナー企業のご紹介なども含めた手厚いサポートで、スピーディーな交渉を実現します。その他の関連業務として、現地視察(工業団地周辺等)、通訳、宿泊、車両手配など、総合的に海外進出をバックアップいたします。
---
We help small and medium-sized companies expand business to ASEAN countries, centering on Indonesia. Our marketing services research competitors and conduct industry marketing research using PAsia's own network. We also provide market research services by partnering with Syno Japan Inc., a firm that specializes in overseas quantitative/qualitative investigation, in order to offer real, valuable information from an international business perspective.
In addition, along with offering accurate information on matters such as sales, report creation, translation of materials, and business negotiations, we conduct speedy negotiations through solid support that includes introducing local partner companies. Other related services such as on-site inspections (industrial park areas, etc.), interpreting, overnight accommodations, and transportation arrangements provide comprehensive backup for overseas expansion.
イベントオーガナイザー / EVENT ORGANIZER
国内外にて、政府機関、銀行、地方自治体などと連携し、日本企業と海外企業のマッチングを行う商談会や展示会のイベント企画及び運営を行います。マッチングアレンジ、国内または海外会場手配、スケジュール調整、事務局運営全般をオーガナイズいたします。
ニーズに合わせて同行、通訳、送迎、宿泊、現地観光の手配など幅広くサポートいたします。

ビジネスマッチング〜販路拡大や製品販売で、スピーディーな交渉が期待できます。:
・海外現地市場の情報収集 ・輸出入販路拡大支援 ・ジョイントベンチャー JVパートナー模索
・技術提携 など
業界:
・自動車産業 ・IT ・食飲料品 ・農業 ・アパレル ・化粧品 ・アニメ(日本のコンテンツ)
・医療機器関連 など
---
In Japan and abroad, we work with entities including government agencies, banks, and municipalities to carry out business meetings that match Japanese companies with overseas companies, and plan and run trade show events. We organize match ups, make arrangements for venues in Japan and abroad, schedule adjustments, and offer general office management. PAsia provides a wide range of support commensurate with needs, including escorting, interpreting, welcome/farewell, overnight accommodations, and local sightseeing.
You can expect speedy negotiations from business match ups to sales expansion and product sales.:
・Information gathering on overseas local markets ・Support for import/export sales expansion
・Searching for joint venture JV partners ・Technological tie-ups, etc.
Industries:
・Automotive ・IT ・Food/beverage ・Agriculture ・Apparel ・Cosmetics
・Anime (Japanese contents) ・Medical devices, etc.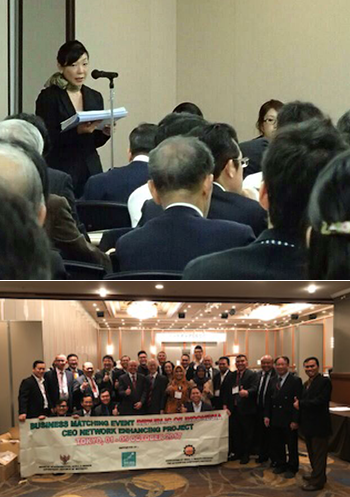 グローバル化対策 / GLOBALIZATION MEASURES
研修サービス
ASEAN諸国の政治、経済、文化、宗教、生活習慣、自然等の情報を交えながら行う「語学研修」や、海外駐在 前に役立つ「異文化コミュニケーション研修」を現地滞在経験のある日本人とネイティブ講師による研修を実 施します。グループ、個別など、レッスン形態はご希望に対応いたします。
ハラルビジネスサポート
インドネシアハラル認証機関と連携し、認証取得の申請・認可に関する業務全般を行います。
国内外の業界リサーチ、商品開発などもご希望によりサポートいたします。
---
Training service
Japanese and native instructors with experience living overseas carry out intercultural communication training that helps individuals before moving overseas and language training that incorporates lectures on matters such as government, economy, culture, religion, life customs and nature in ASEAN countries. The type of lesson, whether group, individual or otherwise, is conducted according to request.
HALAL Business Support
Working with Indonesian organizations providing halal certification enables us to conduct general tasks related to certification application and approval.
We also provide assistance for industry research and product development in Japan and abroad by request.